Silver Bullet is described in the West as a few things; very effective, magical remedy, best and only solution, are just some of the commonly understood representations of its meaning. This belief is synonymous to that of Silver Bullet Consortium Pte Ltd code of ethics.

Silver Bullet Consortium Pte Ltd was founded by passionate individuals that care "For the Best Things in Life" so that; the same value can be shared to those with a similar mindset. With today's internet and volatile business promises, Silver Bullet with its Seal of assurance is proud to offer personally selected premium products to its friends and patrons. Each product in our inventory will be quality checked and explained so that there will not be any disappointment upon arrival. We also believe in creating a valued platform to allow the congregation of individuals that can share and contribute the same appropriate understanding and knowledge for the finer things in life. This adventure is to ultimately develop a Culture that does not define "Class" by the colour of money but rather by the value of the individual and how each lives their lifestyle fruitfully.

We look forward to your visit and stay and sincerely hope you enjoy your experience.

God Bless
Adrian Jay Lim
Managing Director
Silver Bullet Consortium Pte. Ltd.
---
Tamborine Mountain Distillery ®
Tamborine Mountain Distillery is currently Australia's most awarded distillery and liquor brand with a whopping, 250 International awards worldwide in the new millennium.

This small operation pot-still distillery holds strong values for its artisanal, hand produced natural product, of which it has also a been a well sort after premium liquor since 1998. Selected ingredients from the family property and specially selected growers, confirms that no chemicals and preservatives are ever used or in any way that could ever devalue the love and passion that goes into each process of bottle. Each bottle is lovingly hand painted for its traditional pride and presentation, many of which have found their way into the proud ownership of those whom collect them.

The resulting flavour honours the true nature of each and every ingredient. A taste reinforced by the countless judging panels from many of the world's most prestigious spirit competitions and masses of loyal customers that have propelled this tiny family business into a class of its own.


---
NO-BLE NATURAL ELITE DRINK®
No-Ble Natural Elite Drink® is the new standard in The World of healthy softdrinks. Discover the art of energy in this sparkling lifestyle softdrink. Unlike other softdrinks, No-Ble Natural Elite Drinks are crafted from healthy "superfruits", extracts and flavors. No-Ble Natural Elite Drink does not contain any caffeine or taurine or any derivates from these.

No-Ble Natural Elite Drink will raise your standards. No-Ble Elite Drink stands for luxury, exclusive, extravagant, charismatic, powerful, healthy, successful and sensual.

No-Ble Natural Elite Drinks are produced under the strictest quality regulations. The production is BRC and IFS certified. It's also Halal certified.

THE HEALTHIEST SOFTDRINK
Thanks to the properties of the superfruits Açai and Schizandra in combination with Acerola we can guarantee a double healthy booster which is at the same time providing you with the necessary antioxidants and vitamins.

Noble Acai contains 11% fruit juices combined with natural extracts who will give you this healthy boost you are looking for. Açai berries are known to have one of the highest concentrations of antioxidants and are full of amino acids, fibres, calcium, magnesium, potassium, vitamins and essential fatty acids.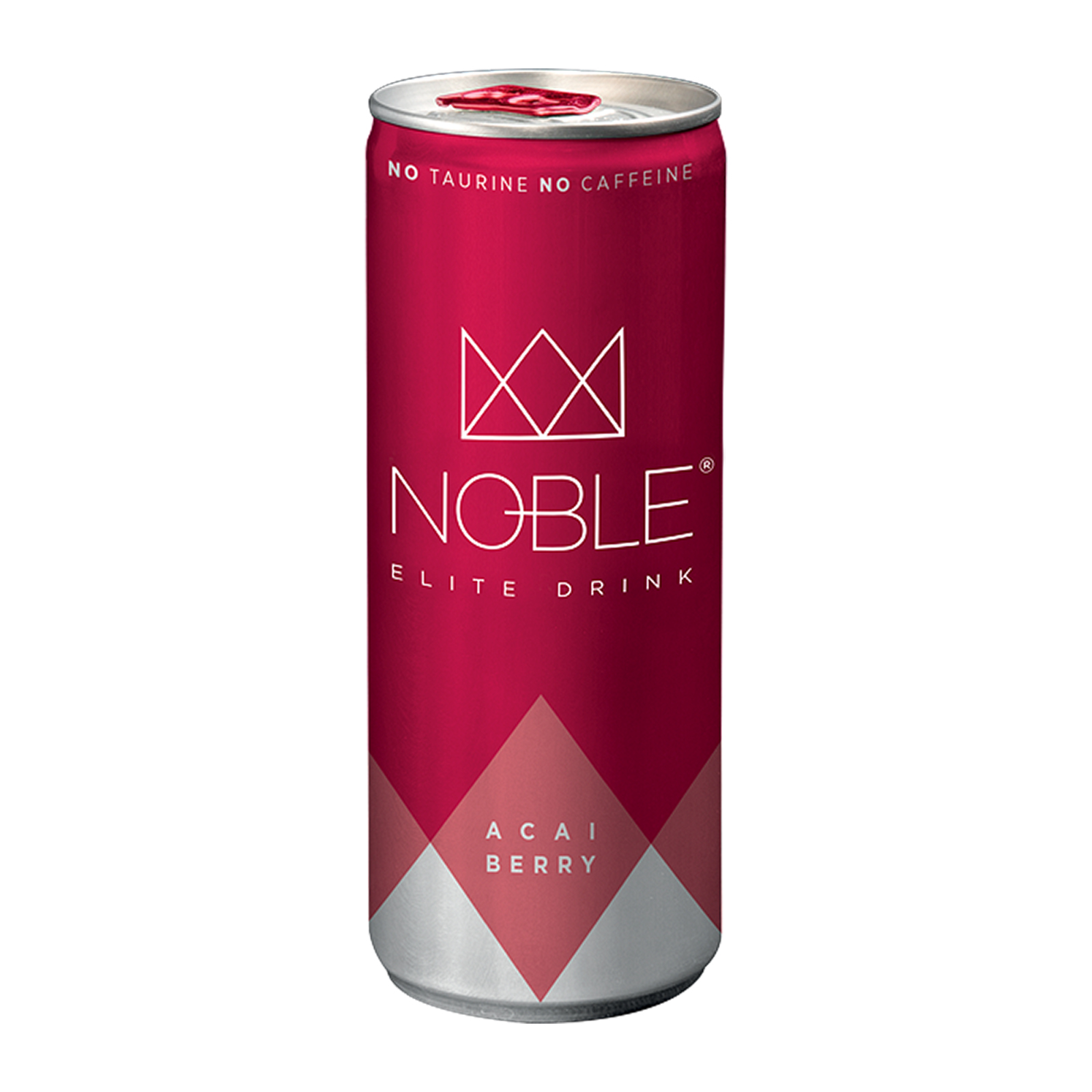 Copyright 2021. Silver Bullet Consortium Pte Ltd